GreenLeaf Industries Case Study & Award Winning Digital Campaign

Customer:
GreenLeaf Industries is an American-owned custom plastic injection molding company established in 1999. They are an ISO 9001 registered manufacturer that "adheres to all its standards to provide clients with consistent, reliable, quality automotive and industrial plastic parts" and takes pride in high-quality craftsmanship and superior customer service.
Background on the Hermes Creative Award Winning Campaign:
During a joint review of recent big wins by GreenLeaf, a trend was noted of winning projects previously off-shored to Asia or Mexico. The process of winning back projects that escaped overseas is known as re-shoring.
For the first time in years, bringing jobs back to America is a cost-effective option. It was agreed that given the opportunity and renewed focus on keeping manufacturing jobs in the U.S., the timing was right for a marketing strategy "pivot."
A new marketing campaign was set in place to land projects previously off-shored and encourage business owners to take action now and to re-shore their project with GreenLeaf."
Campaign Goal and Objectives:
The overall goal was to re-shore plastic injection molding projects that could fit on the GreenLeaf manufacturing platform and to be an inspiration to other American-owned manufacturing companies.
Objectives:
Be recognized in the industry for having successfully re-shored injection molding projects.
Enable the evaluation of injection molded projects that could be re-shored to the U.S.
Generate quality opportunities to quote new projects for the GreenLeaf Lenoir City, TN factory
In short, the objective was to share the success GreenLeaf experienced bringing work back into the U.S., engage in the discussion regarding which projects could be re-shored and earn the right to quote on projects previously unavailable to the company.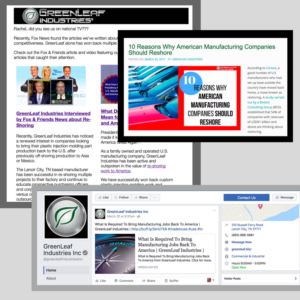 Strategy and Tactics:
Produce Original Content and Engage in the Ongoing Re-Shoring Dialogue
To be exposed to projects that could be successfully re-shored, GreenLeaf had to help companies weed through their options and properly evaluate the full effect and opportunity cost of off-shoring manufacturing.
With the election and focus on American jobs, there was a window of opportunity for GreenLeaf to get involved in popular conversations regarding re-shoring and the current ability of American companies to compete.
Strategy: Publish a full-scale online campaign to have the GreenLeaf voice heard in the state of Tennessee and in their industry.
Tactic: To create quality content including original blog articles, paid social media promotion and emails to the list of targeted contacts.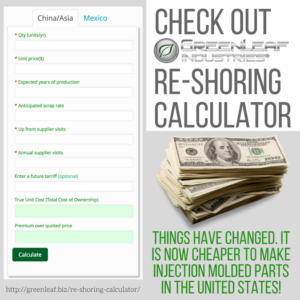 Encourage Manufacturing Companies to Consider Re-Shoring
To get companies to fully consider their manufacturing options and the impact of each decision, GreenLeaf needed an objective resource to help business owners and purchasing agents make a proper and informed decision.
One of the most "shared" articles in their industry last year was a GreenLeaf original piece designed to help businesses uncover the Total Cost of Ownership (TCO) related to off-shored projects.
Strategy: . Users could calculate multiple scenarios and test the viability of reshoring plastic injection molding parts without sales pressure.
Tactic: Promote the launch of the calculator using a combination of press releases, additional blog articles optimized for search engines, paid social media promotion, collaborating with key influencers and email marketing
Receive More Quote Requests and Clients
While the campaign traffic exposed new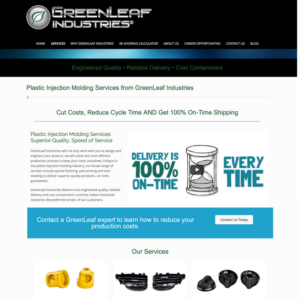 visitors to the website, there was a need to ensure the leads took action and were captured.
A custom landing page based on a best-practice format, and designed to convert targeted persona visitors, was created with original copy, video and photography. 
Strategy: Drive high-value traffic to the website's key pages and convert visitors into leads and clients.
Tactic: Create a "Services" landing page complete with Calls to Action and best practice conversion tactics.
Tactic: Run paid social media promotions and email marketing on the original reshoring articles.
Campaign Results:
Opportunity met preparation when President Trump announced a visit to Tennessee to meet with citizens, businesses and political leaders.
FOX News caught wind of an original article GreenLeaf had penned about the potential impact keeping jobs in America could have on business in the Tennessee area.
GreenLeaf leadership was interviewed live, on national television, with FOX and Friends and again later that evening on Fox Business. It's fair to say that word was out about re-shoring and GreenLeaf Industries in particular.

Produce Original Content and Engage in the Ongoing Re-Shoring Dialogue
The online re-shoring campaign resulted in tons of engagements, interest, page clicks, shares and likes.
Thanks to FOX News for picking up on the trend to re-shore, GreenLeaf engaged in the dialog at a national level.

Results: In the two days following the interview, website traffic surged from 50 visits per day to over 200 visits per day.
 Encourage Manufacturing Companies to Consider Re-Shoring
GreenLeaf admits to hearing from several companies in recent months looking to bring manufacturing jobs back to America.
The shared content and other daily posts on social media surrounding re-shoring resulted in many people visiting the website to get more information or utilize the cost calculator.

Results: In the first 30 days of the calculator launch, 188 (109 first- time visitors) people visited the calculator webpage, 33 (17%) people converted and used the re-shoring calculator and 15 (45%) people converted further and hit the submit button to request a formal quote to re-shore their project.
 Earn the Right to Quote on Projects Previously Unavailable to the Company.
Results: Of the 15 formal requests to quote, 4 (27%) were projects from companies that had never visited the website or been in contact with GreenLeaf Industries.
Schedule a Free Marketing Consultation & Analysis