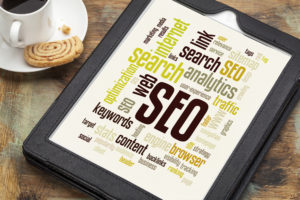 Even as digital marketing has taken over the marketing world, nearly a quarter of all businesses still aren't using social media or SEO. Without an intelligently structured marketing strategy, companies could be wasting time or valuable advertising dollars.
If you're not actively optimizing your website for search engines (SEO = Search Engine Optimization), you may need to hire an SEO agency to help ensure you get a return on your website and marketing investment.
Search engine results are becoming the primary way consumers find out about businesses. Even a longstanding business with talented staff and good customer service can't hope to compete with peer companies that are investing properly in SEO. 
If you're not appearing at the top of the search engine result pages (SERP) or if you are not seeing your digital marketing dollars convert to sales, your online strategy might be trashed. 
Here are 10 signs that it's time to call an SEO agency to solve your problems.
1. You Aren't Consistent With Both On-Site And Off-Site SEO
Your SEO strategy is more than just installing a plugin to your website.
SEO is technical and should include optimization of your website pages ("on" your website) and your backlink profile (which is "off-site").
To make matters worse SEO is ever-changing so you HAVE to stay on top of it. 
"The most attractive website in the world won't provide a return on your investment if it can't be found."
Sadly SEO isn't something you can learn, or perform on the weekend between yard work and the football game.
Your work must be accurate, consistent and plentiful.
It will involve knowledge of WordPress or HTML programming, SEO best practices, apps to support your work and analytics, fresh website content, social media promotion, a network of local and relative directories plus blogger outreach. If you can't dedicate regular time each month to perform these task properly, hire someone to help before you lose too much business.
And you will miss business if your website is the industry's best-kept secret.
2. You Got An SEO Penalty!
Search engine optimization has rules. Google will punish companies that break the rules in an attempt to fluff their rankings… even if it was unintentional.
Penalties will mean that Google will artificially lower your rankings until you fix the issue.
Learn from your mistakes and avoid incurring Google penalties for duplicate content, keyword stuffing and "black hat SEO". Black hat is the industry term for cheating and Google will make you pay dearly if you try a tactic that you heard was the "key to great SEO". 
Don't worry. If you get penalized, you will get an email in your Google Search Console inbox. if you don't know how to find your inbox, you're already toast 😉
3. You're Only Focused On Content
So we are on the same page… hiring an SEO agency will help you improve your content marketing strategy and results greatly. But pumping our content does not equal good SEO or increased website traffic.
Your content must be informational and helpful to your target audience. Topics must be created with great care to ensure you will be viewed as a trusted source and that your content will be consumed (read, watched, heard etc.).
SEO agencies have software that can blow your mind. They can provide you with topics people are searching for, how often the topic is searched and the details about those searching. Their software can show you the most read and most shared articles.
Want to know which of your competitors have the best online profiles and what type of audience they are targeting?
Trust us, this is only the beginning. It gets borderline creepy, but information is power. If you want your website to attract the most traffic in your space… create the best content; produce it in the form your audience likes to consume (copy, audio, video, ebook, on and on) and promote it properly. 
4. You Don't Have Time Or Skills For SEO
Not every talented business owner has the technical skills for SEO or the time to develop them. You'll need to know basic elements of web design, development, mobile optimization, backlinking, conversion rate optimization, copy readability, metadata and more.
You can do it…it just takes time.
While juggling the rest of your business affairs, be careful not to invest too much time and effort on something that you could outsource to a professional.
There is only one You.
If you want to improve your search engine results without having to take a basic web design class in your copious free time, it might be worthwhile to call in the pros.
5. You Can't Prioritize SEO
A major factor in inbound and content marketing is SEO. It's become a priority for almost every company and in order to remain competitive, you must have content creation and distribution prioritized.
Be honest. This might not be possible with your workload.
Your marketing department might already have their hands full.
If this is the case, it's time to call an SEO professional and let them take the wheel.
6. You're Not Getting Results
Even a business that has taken the time and effort to follow all of the so-called "experts" regarding optimizing their web presence can fail to produce results.
Sometimes it's important to know when to stop wasting valuable resources. If your marketing investment is not providing a measurable and definitive ROI (return on your investment). Get help now.  
7. SEO is Changing Too Fast For You
Perhaps your budget only allows you to spend one week a year looking at your SEO status. Meanwhile, Google is changing their algorithm every 12 hours.
That means you could have missed out on 600 change cycles since the last time you restructured your own SEO.
If you don't have the time to devote to this, you shouldn't give in and let your rankings suffer. Hiring someone who is an expert in SEO can check in with you on a monthly basis or more often if you think that would help.
8. You Know That You Might Be Subject To Problems
If you run the kind of site that has had problems with spammers attacking your message boards and comments, you know you need SEO help.
Companies that allow customers to post content can be abused to improve spammers' own results. That duplicated content or spammy posting can damage your search rankings.
Having an SEO expert to consult can help you avoid these issues. They can help to spam-proof your site and ensure that posters aren't leaving duplicate content behind.
9. You've Skimped On Local SEO
Every local business has to know something about local SEO. Your SEO rankings shouldn't be compared to huge international firms or companies located 10,000 miles away. Google knows this too.
In order to meet your customers where they are and end up in local search results, you need to be targeting locally. If you've been spending your time trying to market against the biggest companies in the world, you're wasting advertising dollars.
Hiring an SEO agency can help you get think globally and act locally.
10. Your Keywords Aren't Working
Depending on the field you're working in, your keywords might be too general or not giving you the results you want. Banging your head against the wall won't get you there. Calling an SEO agency will.
SEO experts know the way to help improve your keywords to get you the search results you want.
Hire An SEO Agency And Focus On Your Business
Calling an SEO expert isn't an act of throwing in the towel.
It's the exact opposite.
Your priority needs to be delighting your customers.
If you're still trying to figure out what type of agency to hire, contact us for a free, no sales pitch consultation and tips for finding the right one.
SaveSave