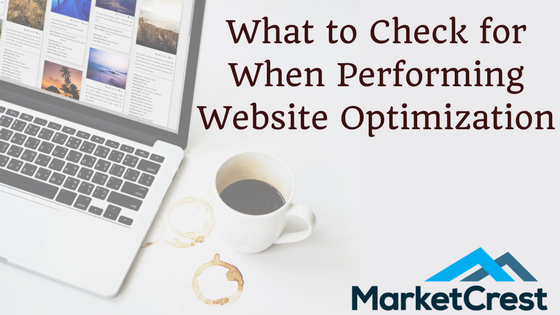 Website optimization is a necessity for businesses, organizations and every other entity with a web presence. Proper optimization and maintenance will guarantee your website functions as a meaningful marketing tool. Below, we delve into the basics of website optimization that will keep your website in tip-top shape. A website provides a positive impression that your business needs to make connections with visitors of all types.
Website optimization makes sure your site is current and found online. The presentation and functionality of your website really is an important competitive advantage across all industries.
Website Optimization: Where to Start
Set the stage for your website checks by taking some preliminary steps that will make the entire process that much more efficient. Start by installing Google Analytics and sign up for Google's Webmaster Tools. Confirm your website, establish a backup service and coordinate daily database backups along with full site backups on a weekly basis. These should be stored on a distinct server. Several high-quality backup services can be found online, just search for them on Google.
Amazon S3, Google Drive and Dropbox are typical for remote servers.
Website Optimization: Regular Website Checks
The website should be checked at least once every week. Each page on the site's front end should load without errors. Plugins and the Content Management System should be updated. It is not enough to perform daily backups. Take the next step by storing these backups at an off-site location. Go through the pages to find if there are any broken links. If you find spam comments on certain pages during website maintenance, remove them.
Take a close look at all forms to guarantee they are functioning as designed. If there are any 404 errors, resolve them by re-directing or remedying links. If there are any problems with emails transmitted from the web server, note and resolve them as quickly as possible.
In terms of marketing, ally with a content marketing team to help you create weekly blog posts to share with colleagues and followers.
Website Optimization at Extended Frequencies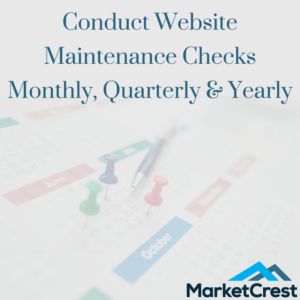 Monthly website optimization can commence with gauging the loading speed. If it is in excess of three seconds, discuss the matter with your web developer to enhance speed. From a marketing perspective, it makes sense to transmit a monthly update to those on your email list.
The monthly check is also the time to review security scans, Google Analytics website statistics and local searches.
Consider what your most and least popular content is and repurpose the best of it. Pinpoint the best source of conversion and specific pages visitors come from and consider optimizing them with frequently searched keywords and phrases. Analyze all of this information in-depth and alter your content as necessary.
The quarterly website maintenance check should be a thorough review. Consider what aspects of the site can be improved. Take a close look at the website content, graphics, photographs and so on. Is everything up-to-date? Consider if it is possible to enhance this content so it is more current. The quarterly website optimization is also the time to review and modify meta titles and meta description tags.
Check the uptime logs to boot. If uptime is below 99.9 percent, meet with the web host to find out how it can be improved. If the web host can't help bring this figure up, consider the merits of other web hosts. This is also the time to check backup health by restoring the latest backup to a distinct web server.
Review the tasks performed on a regular basis and determine if they can be automated to save time and effort. Validate the site for use on mobile devices, accessibility and CSS/HTML. If you run online advertising campaigns, review and adjust them each quarter to meet goals.
The quarterly check is also an opportunity to perform some testing. Test the automated messages, forms and the website itself. Make sure the site looks good on all different types of computers, laptops and mobile devices. Alter the forms and automated messages in an effort to boost your conversions. It should automatically integrate with the CRM as well as the email marketing system.
Conduct Annual Website Checks
The annual website check is a time to consider improving the website's user experience design as well as its aesthetic design. Implement changes as necessary to keep visitors stimulated and intrigued by the site's presentation. Update the website footer copyright date. Renew the website domain name if necessary. Review all of the site's pages to ensure the content is accurate and still relevant. This is also the time to review the website strategy to ensure it is fully aligned with your idiosyncratic business goals.
About MarketCrest, LLC:
MarketCrest, LLC is an award winning, full-service marketing firm focused exclusively on Marketing Consulting & Services that drive revenue growth. Simply, we exist to help our clients compete and grow… and we expect to be held accountable for their improved performance.
MarketCrest, LLC
105 S. Tennessee St. Suite 103
McKinney, TX 75069
SaveSave