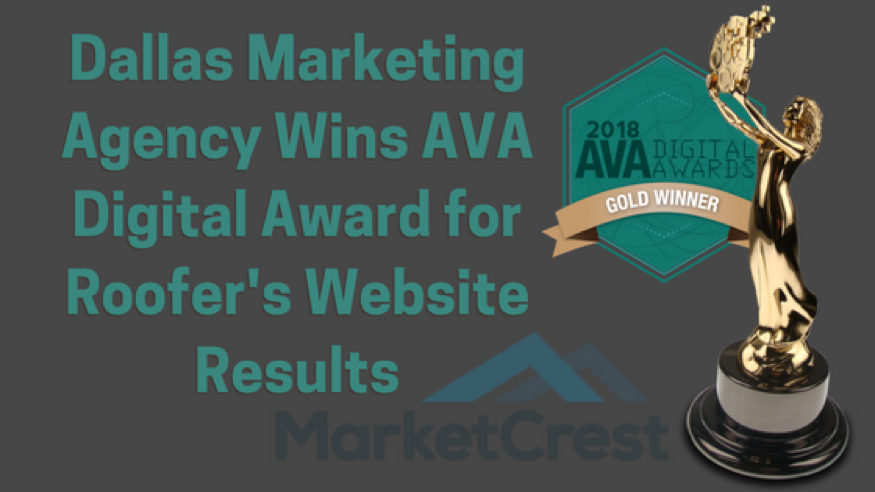 Recently, MarketCrest, LLC struck Gold in the form of an AVA Digital Award in the category of "Business to Consumer Website" for their client Elevated Roofing.
MarketCrest is a full-service SEO and content marketing agency located in the Dallas suburbs of McKinney, Texas. Its staff provides content marketing, SEO services, PPC marketing, website design & development, marketing automation, and consulting & fractional marketing services, to businesses across the nation and internationally.
In the award-winning case study submitted to AVA, MarketCrest outlines its combined effort with longtime agency partner Improve & Grow and Elevated Roofing to transform the roofer's existing website with three goals in mind:
1. Convert existing website traffic (Free Roof Inspections) at a higher rate
2. Generate new website traffic to the new home page
3. Improve website visitor engagement/experience
In a unique and valuable partnership, MarketCrest and Improve & Grow worked side-by-side to execute an online marketing plan that proved incredibly successful exceeding even the client's expectations.
• Website traffic improved by over a 100%
• Website form fills (request for a roof inspection) increased by over 300%
• Website conversion rates improved by over 100%
These results are in line with the results seen by other clients of MarketCrest, as the agency's main objective is to generate website conversions and landing page conversions for their clients.
This is done by attracting online traffic with targeted content and paid advertising, engaging users on the client website, and turning those website visitors into potential customers via call-to-actions, contact us pages, website form-fills, and phone call tracking from first time visitors.
About MarketCrest,
MarketCrest, LLC is an award winning, Digital Marketing Consulting & Services firm specializing in client revenue growth. Simply, we exist to help our clients compete and grow… and we expect to be held accountable for their improved performance.
MarketCrest, LLC
105 S. Tennessee St. Suite 103
McKinney, TX 75069