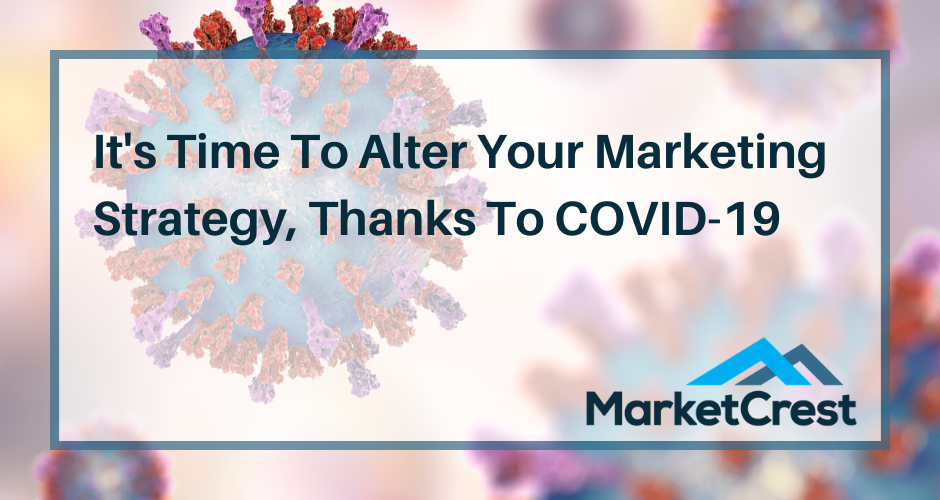 COVID-19 is going to change how all of us live, work and run businesses for a while.
In fact, most businesses will be impacted, and many businesses will suffer greatly.
Almost immediately the stock market plummeted and record number of people applying for unemployment.
Business owners are already cutting costs and, as usual, marketing is often the first to go.
Sadly, for many companies, if they stop marketing, they stop getting new clients and leads. That means and there's only one way to go: down.
Instead, we are encouraging our clients and business partners to see this time as an opportunity.
An opportunity to be bold. Be smart. And be aggressive.
Your competition is also going to suffer during this time. Businesses whose finances aren't as solid, have debt and are low on cash will be vulnerable.
The best time to pass your competition is now, when they're weak and circling wagons.
The bold will continue, or even grow, marketing efforts to take opportunities and hopefully avoid some repercussions of the recession.
Communicate Early and Often – Address the Coronavirus
As much as people are tired of hearing about the coronavirus, we can't pretend it isn't here.
Immediately create social media posts or a short blog article communicating how your business is handling this new normal.
Are you "open"?
Are you answering the phones and emails?
Or are you only offering phone or video chats?
Are you working remotely?
Are you still allowing people to visit your office?
How often are you cleaning the office?
Are you running any special deals or opportunities? (Many retail stores are running discounts on gift cards to help with their cash flow and some attorneys are answering questions for free on social media.)
Have you updated your social media accounts, website and Google My Business Pages?
Let people know what is going on with your business. Be a superb communicator or risk falling off people's radar. In addition, don't forget email marketing as a means of staying in touch with your customers and prospective clients.
Plan, pivot and attack
It's going to be a mad rush to normalcy when social restrictions are waved, and people are available to work and socialize.
Tens of thousands in losses (millions in some cases) have to be made up quickly.
Start by applying for the COVID-19 stimulus programs available for small businesses. You're a taxpayer and funding it, might as well get some help if you qualify.
Strategize how you will accelerate once restrictions are lifted. Start early if you can. Burn up the phones laying groundwork for normalcy. Line up meetings, revise account planning, design ads and fund them, upgrade presentations, proposals, video content, website, and sales collateral.
Whatever you do, don't retreat. Be active, be aggressive and be ready.