Elevated Roofing Small Business Website Performance
About the Agencies:
MarketCrest™ is a marketing firm located in Historic Downtown McKinney, Texas. With clients in more than 5 U.S. states and internationally in the United Kingdom and Mexico, MarketCrest provides consulting, digital marketing, search engine optimization (SEO) and more. They often collaborate with Improve & Grow, LLC to bring clients award-winning marketing results.
About the Client:
Elevated Roofing is a premier roofing company located in Frisco, Texas, who services residential and commercial properties in the Dallas-Fort Worth Metroplex.
See the documentation below for our submission and its results.
To view the Home Page directly, visit www.elevatedroofing.com
Case Study Overview:
After success in 2016, Elevated Roofing aimed for record-setting revenue growth in 2017. The company challenged their agencies, MarketCrest and Improve & Grow, to drive that growth. The defining moment was the agencies transforming the existing homepage into an informational "landing page style" format that was optimized for conversion.
This allowed Elevated Roofing to eliminate the use of off-site landing pages and convert visitors directly on the website. Results: The 12-month rolling average for website conversions (Request a Roof Inspection) skyrocketed from 140 roofs per year to 652 roofs per year, by the end of the campaign, providing Elevated Roofing with a record-setting financial performance.
Home Page Goal and Objectives:
The goal of obtaining extreme revenue growth through the use of a high converting Home/Landing Page was broken down into two measurable objectives:
Convert existing traffic at a higher rate & improve website visitor engagement/experience as a result of a great home page.
Strategy and Tactics:
Convert existing traffic at a higher rate
To convert existing traffic at a higher rate, MarketCrest and Improve & Grow:
Conducted research & analyzed data to strategically identify target keywords
Optimized existing website content for target keywords, focusing on key service & service area landing pages
Reconfigured Pay Per Click (PPC) campaigns to focus on keywords with commercial intent
Additionally, the agencies created a new page template and installed it on the Elevated Roofing home page. The design included multiple calls-to-action, a call tracking number, access to helpful blog articles and branded social media profiles, a map to the office, services provided and custom city pages. (See screenshots below)
Improve website visitor engagement/experience on the new Elevated Roofing home page
To improve website visitor engagement focus was shifted to address user needs and create an experience encouraging call-to-action:
Provided a section on the home page offering the latest blog articles relevant to the target audience
Collaborated with client to refine target audience, services, features/benefits, call-to-action and testimonials
Reconstructed the website home page to a sales page that emphasized key features/benefits, testimonials and improved calls-to-action
Redesigned PPC campaign ad copy to incorporate key features/benefits & direct users to enhanced home page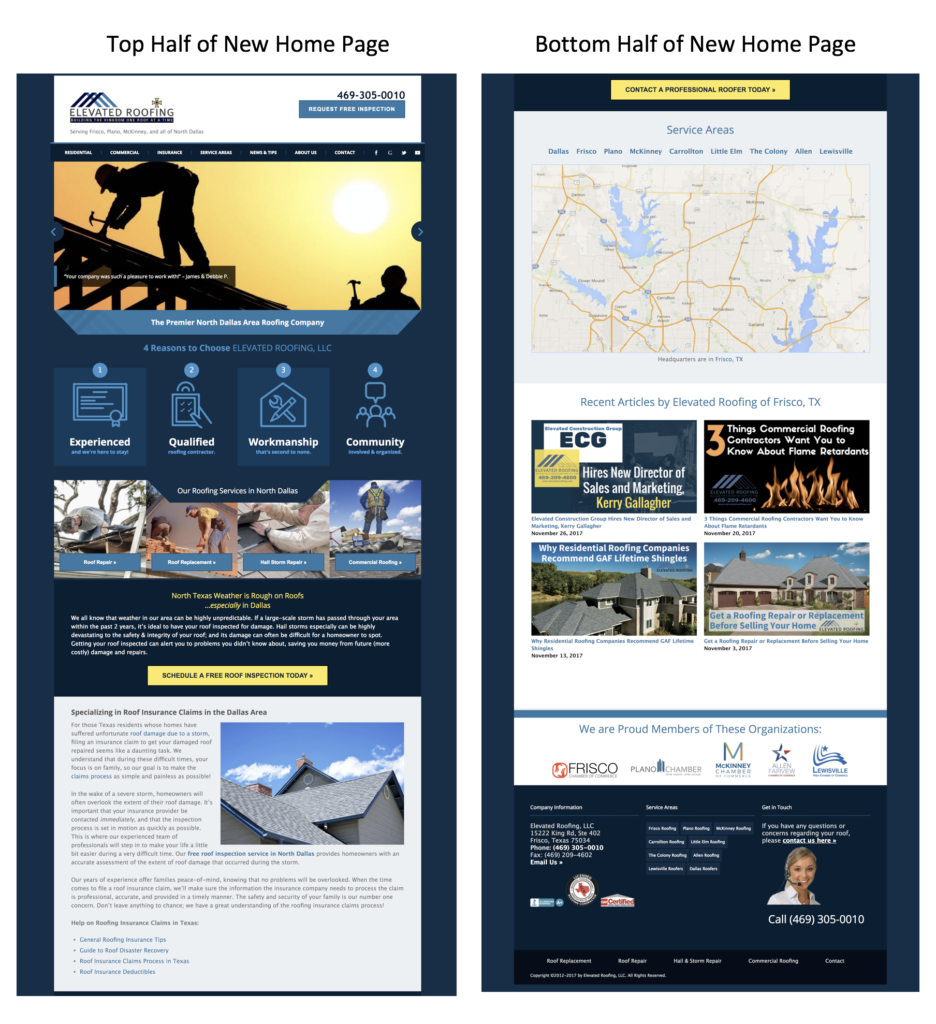 Resulting Website Performance:
Convert Existing Traffic at a Higher Rate
improved website conversion rates
from 1.7% annually to 3.5%
Improve Website Visitor Engagement
improved website form fills
from 149 per year to 652 per year
Schedule a Free Marketing Consultation & Analysis