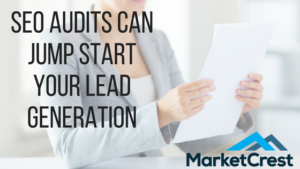 SEO Audits can be more than technical– they can seriously improve the user experience, resulting in more conversions. Here's the inside scoop on how:
Our SEO leader, Carl Lefever knows running a well-functioning website on your own (especially if you aren't a web designer), is difficult
…period.
Sure the topic is a tough one but having a lead generating website to give your small business a leg up is also an necessity in this day and age.
It doesn't have to be quite so difficult. There are a TON of resources out there to help optimize your business website and market your firm.
When it comes to online marketing, you can't dismiss the SEO auditing process and expect to be successful.
A proper SEO auditing strategy could uncover the exact adjustments your site needs to improve functionality…and focusing on enhancing the user's experience can seriously boost much-needed traffic.
Are you ready to learn more about SEO audits and your website? You'll end up reaping the benefits of SEO audits before you know it!
SEO Audits and the User Experience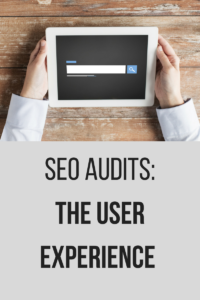 The process of a Search Engine Optimization (SEO) audit is sorta like having a really great proofreader go over your entire website. SEO audits are performed via marketing services or through SEO audit software.
Standard SEO audits are usually broken down into three groups.
The technical aspect of SEO audit includes SEO tactics, caching, checking databases, hosting, and mobile compatibility.
Content checks for SEO audits include proper link use, meta data, customer engagement, website usability, and conversions.
Links are important within SEO auditing. Things like link analysis, history, click patterns, and internal navigation are often included in an SEO audit.
A very, very basic analysis will begin with a technical audit and only focus on factors like missing links or 404 error messages. A more extensive SEO audit will include improving the experience for the customer.
Customers are obviously living people with emotional responses to everything, including the purchase of a product or service. Performing a well-rounded SEO audit that concentrates on technical website function as well as emotional connections with consumers will benefit you greatly.
The Benefits of SEO Audits
There are a ton of benefits to SEO audits.
Your website will get a serious transformation.
An audit will evaluate the content and technical performance of your website. You'll have an opportunity to see what needs improvement and what doesn't, and improve the structure you already have.
Search Engine Optimization Will Improve
SEO is key when it comes to marketing. By going through an SEO audit, you'll have the chance to check for missed opportunities and excesses of keyword stuffing or bad links.
Conversions Will Start Happening
One of the best benefits of SEO audits is increased conversion. You're finally going to be able to evaluate how well your website performs when it comes to generating leads and you'll also be able to spot weaknesses in your landing pages.
Conduct a Basic Assessment
Before diving into a full blown SEO audit, it helps to perform a content assessment. Don't worry, you don't have to be super tech savvy to perform this assessment. Let's break it down into a couple questions you should ask yourself, shall we?
How good is My Website Content?
As a company owner, it helps to put yourself in your customers' position. When you view your website, pretend you are an individual visiting for the very first time.
Were you satisfied with the information provided to you? Was the content easy to read? Did all of my questions about a product, hours of operation, etc. get answered by content on the site?
Website content should be entertaining, written well, and thorough. Don't stuff fluff into your content. Consumers want their questions answered and their need for information satisfied, and that is your website's job.
If you're not the greatest writer on the planet, consider hiring a freelance writer or blogger to create readable and concise content for your website.
Is there some SEO action happening?
Search engine optimization is really important. Check your analytics to review how well keywords are generating traffic. Check to see if you have an adequate amount of keywords within URLs and page titles.
Decide if a website audit is right for you.
If you're satisfied with the state of your website and the traffic you're getting, you may not need an SEO audit. However, if you are desiring a greater amount of traffic, an SEO audit will provide you with the information you need to optimize your website to increase your organic search traffic.
Are you ready to get started? Request a free SEO audit or consultation.
MarketCrest, LLC is an award winning, full-service marketing firm focused exclusively on Marketing Consulting & Services that drive revenue growth. Simply, we exist to help our clients compete and grow… and we expect to be held accountable for their improved performance.