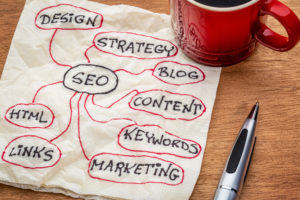 Search engine optimization, or SEO, is part art and part science. It involves creating content for your website that's optimized for search engines – but part of good SEO is optimizing your content for readers, too. Learning SEO basics isn't terribly difficult, and it definitely pays off.
So where do you start?
SEO Basics: What You Need to Know About Optimization
Basic search engine optimization techniques include:
How to implement SEO in your web design
How to research the best, most profitable keywords
Understanding Google's Webmaster Guidelines
Using keywords and their counterparts in your content
Hiring the right SEO professionals
Tracking performance
Before you can dive into the specifics, you need to understand search engine optimization and why it's important, which the following section covers.
What is SEO?
Search engine optimization is a digital marketing tool available to every business owner with an online presence. It helps SMBs reach potential and existing customers through major search engines, which all generally follow Google's lead.
A basic SEO strategy keeps the principles behind a standard Google search in mind.
Users enter a phrase called a query into a search engine. These words best approximate what the user is looking for, such as "where to find pho in Dallas" or "how to knit a scarf."
When Google receives a query, it automatically assembles a collection of results that provide an answer. The most complete and accurate answers, as determined by Google's algorithm, appear at the top of the search engine results page, or SERP.
This is possible because Google's crawler – commonly called the Googlebot – reads the content of each page it discovers and uses more than 200 factors to assign it a ranking. The algorithm Google uses latent semantic indexing. That means Google can recognize related terms and phrases in groups (like knit, knitting, yarn, stitch and purl) to understand, categorize and rank pages.
Think of Google like a giant file cabinet. It files away useful webpages in each drawer and knows precisely where to go when someone needs an answer.
The higher a page ranks in the SERPs, the more likely users are to click it.
Businesses can optimize online content with specific Google searches in mind. For example, a local shoe store can optimize its content to reach people searching terms like "Nike retailer" or "designer boots in San Francisco."
Good SEO is about more than keywords, though. It's an entire strategy that successful businesses implement to gain greater visibility in the SERPs and, as a result, more traffic and more sales.
How to Implement SEO Basics
As a business owner, you can take SEO basics into your own hands. It's possible to engineer a powerful SEO strategy on your own. You have to be in it for the long haul, though – good SEO doesn't happen overnight.
1. Spend Time On Web Design
Optimizing your website makes your business more visible to a highly targeted group of searchers who want or need what you have to offer.
There's one catch: Google is all about user experience, or U/X.
If you search Google and the results you get are consistently underwhelming, you're going to switch to a different search engine. There are myriad reasons you could be displeased with the results, like:
The pages you get don't answer your question
The website you land on is slow to load or uses outdated technology, graphics or design
The pages you click don't render properly on your device
That means your site needs to feature a responsive design that renders properly on phones, tablets, laptops and desktops. It also needs to load quickly – within 3 to 5 seconds – and each page needs to answer a user's specific query. You also need to provide users with:
Easy navigation
Interactive, intuitive content
A user-friendly interface
Before you can dive into SEO, your website needs to provide the U/X Google and its users demand. (Learn more about responsive, intuitive web design services here.)
2. Research Keywords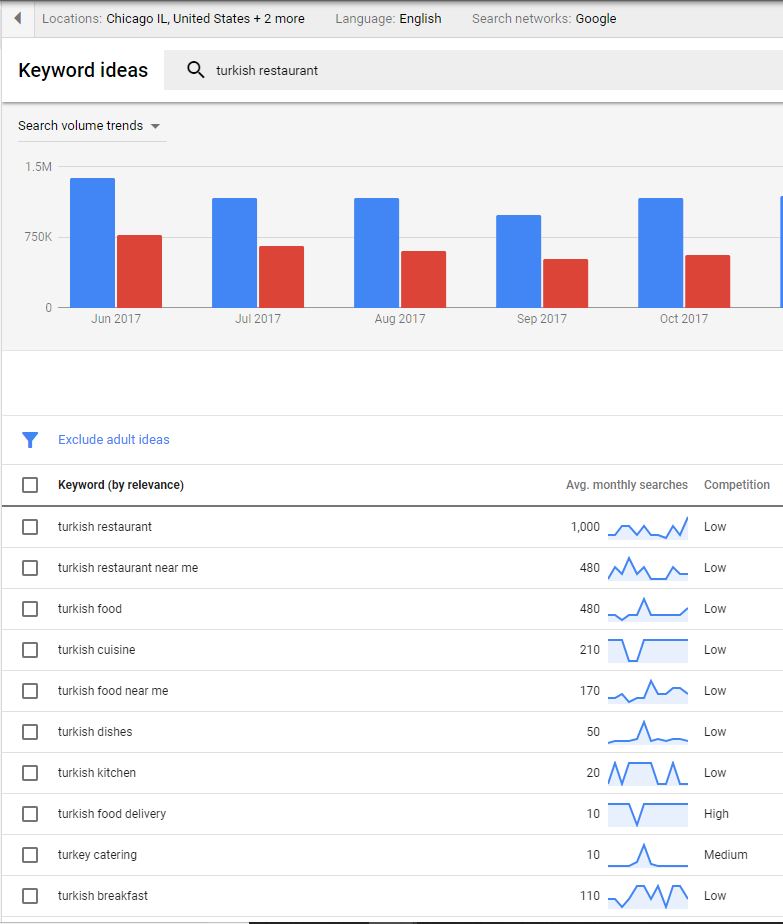 Keywords are central to any SEO campaign – and the most successful search engine optimization campaigns are data-driven.
Start by researching your competition. Note where your competitors rank on Google for keywords and phrases that also relate to your business.
Perform some organic searches for keywords you feel your users may use to find your business. Start with the basics, but don't be afraid to try out long-tail keywords.
Examples of basic keywords:
Turkish restaurant
Bowling alley
How to knit
SEO basics
Examples of long-tail keywords:
Turkish restaurant in Dallas
Bowling alleys near me
How to knit baby booties
List of basic SEO techniques for beginners
You can use a variety of tools to plan your keywords. Google's Keyword Planner is the most obvious choice, but it only offers broad data unless you're paying for advertising. However, there are a number of free and paid services that allow you to research keywords relevant to your business. Some can become very expensive, so for most business owners, it makes sense to hire an SEO expert who already has access to the most effective tools.
Pro tip: Only use one keyword or phrase per page of content. Keywords must be distinct between pages.
3. Familiarize Yourself With Google's Guidelines
Following Google's Webmaster Guidelines helps ensure your pages are compliant with Google's requirements. Spend some time learning best practices – and what not to do – before you begin.
If you violate any of Google's terms, the search engine will penalize your site. Google may elect to exclude a few pages from its index or it may deindex your entire site, depending on the nature and severity of the violation.
4. Optimize Content
Content optimization is the most fundamental part of a basic SEO strategy. It involves choosing a keyword or phrase and building content around it naturally.
Googlebot is programmed to discover and index pages based on the text they contain. Google's algorithm, Hummingbird, uses latent semantic indexing to determine a page's purpose.
What is Latent Semantic Indexing?
Latent semantic indexing, or LSI, is the method Google's algorithm uses to scan through data and identify relationships between words. This enables determine the context of a page and eliminates the need for keyword density.
What is Keyword Density?
Keyword density refers to the extremely outdated practice of using your keyword a certain number of times per 100 words. In the earliest days of search engine optimization, webmasters could stuff a page with keywords and rank well for the term. The result was generally useless spam that read like this:

Use each keyword naturally. Make sure that keywords appear in the page's meta title, a heading or two, within the body of the content and in the meta description – but don't "stuff" keywords in. The best way to incorporate a keyword is to write naturally, then revisit your content and ensure that it appears where it will help readers most. Because Hummingbird understands word groups (like the knitting example above), there's no need to worry about keyword density.
Pro tip: Optimize image file names and alt text on images with your keyword.
If you use WordPress for your website, you can install a plugin that can help you with optimization, such as Yoast SEO or All-in-One SEO Pack. Just bear in mind that as of this writing, Yoast still considers keyword density a factor as it "grades" your content.
5. Consider Hiring Professionals
Successful SEO depends on link-building and dozens of other factors, including local optimization, getting reviews and establishing social media profiles.
Link-building is an important component of SEO. Google uses inbound links – links that lead into your site from other websites – as a measure of how valuable your website is. If already-reputable sites link to yours, it's a strong signal that you have something to offer users. Conversely, if several spammy sites (like link directories) link into yours, Google can interpret that as a sign that your site is likely not worth much or that you're trying to game search engine results.
Optimizing content for location-based searches, such as "Brooklyn bagels" or "Dallas roof repair" can help bring in local business. A good SEO strategy also includes using Google My Business and other tools that help establish your company as the local go-to when your potential clients are looking for help.
Many people trust independent online reviews as much as they'd trust a recommendation from a friend, so it's important to build a presence on review sites like Google, Yelp and others. Building a presence includes responding to reviews (both positive and negative) and showing people who read them that your company is interested in maintaining a good reputation for customer service.
Establishing profiles on social media sites is a proven SEO strategy – not only because social signals are one of the ways Google determines how valuable your site is, but because social media itself can bring in targeted traffic. (You can learn about how social media plays a role in any good website strategy here.)
Business owners who want a complete SEO campaign often turn to professionals. At MarketCrest, for example, we assist our clients in all aspects of search engine marketing.
6. Track Performance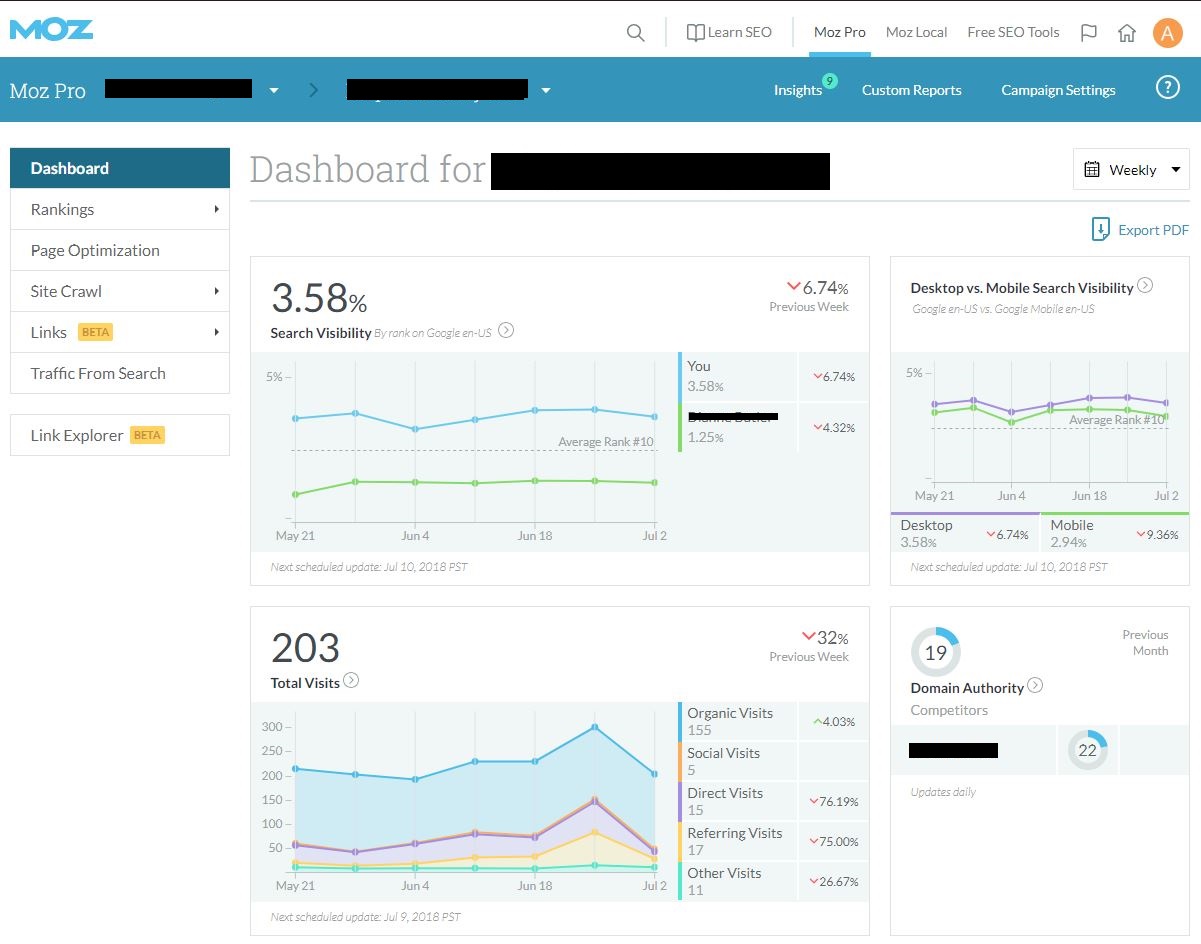 SEO is always evolving, and you need to know where your site stands on a day-to-day basis to ensure you stay on top. Use Google Analytics to track which pages people land on to enter your site, where your visitors are coming from and how long people spend on each page. You can also use paid tools, like Moz and SpyFu, or built-in tools that come with platforms such as Wix and Squarespace that track your site's performance.
The most important thing you can do is monitor whether your efforts are paying off. That way, you can adjust your strategy and focus on the optimization techniques that are bringing you new business.
SEO Basics: Final Thoughts
Learning SEO basics can make a huge impact on how well your website performs. Used properly, SEO enables business owners to connect with larger audiences and increase profits.
Simply by familiarizing yourself with Google's guidelines, researching keywords and investing in the right web design, you can boost your bottom line.
At MarketCrest, we love helping our clients take their digital marketing to the next level. Learn more about our award-winning work here – and when you're ready for a free, one-hour consultation with a marketing expert, call us at 469-661-1040. We're here to help.