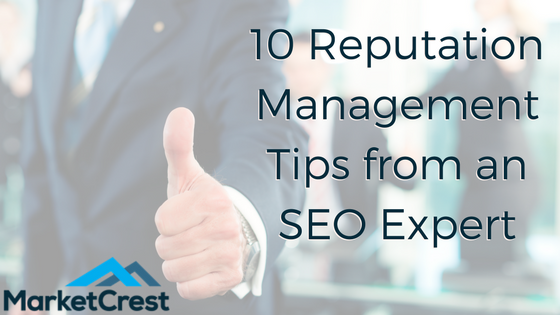 Ninety-seven percent of consumers in North America read online reviews to learn more about a business.
If you are not taking an active role in how your business is being perceived online then it's time to start.
Our clients agree that Reputation Management is vital to succeed online today.
In this article, we have compiled helpful tips to help you recognize how professionals manage a company's online presence. There are a lot of lessons learned!
Let's get started:
1. Create A Consistent Online Presence
In order to manage your online reputation, you need to BE online. Create accounts for your business that are applicable to your industry. These go beyond Facebook, Twitter, and Instagram (Though, you should have those too!).
Do some research to find popular sites in your industry. For example, if your business provides home services, consider creating an account on Houzz. Are you a B2B company that's looking for hot leads? LinkedIn and LinkedIn Groups will become your kingdom.
Delve into the digital world and find your niche. Among the websites we've listed above, you can also create accounts on Pinterest, Flickr, and Vimeo. Keep in mind that not every industry will thrive on these platforms. Do some research of your own to find out if your business will be a good fit.
2. Make Social Media A Priority
Social media is no longer just for friends and family. Users are turning to social media to follow brands, learn more about a business, and on some occasions, share their grievances with the world.
Platforms like Facebook and Twitter are replacing email complaints and comments. In fact, during the past two years, research shows customer interactions on Twitter have increased 250 percent.
Reputation management begins with your customers, their online comments, and reviews. Respond to their comments quickly, listen, don't be defensive and always be professional (take the high road).
Like it or not, social media is an essential part of business today.
Users have a greater voice than every before. Thats good…and sometimes its bad.
3. Don't Ignore Google Reviews (Or Google My Business)
When it comes to reviews, Google should be a primary area of focus. With more than 3.5 billion searches made per day, you cannot afford to take a blind eye to those reviews.
If you are investing in SEO, you will be easy to find online. Make sure when searchers find you, you like what they see!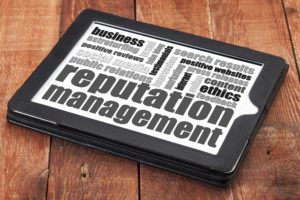 Manage your online reputation on Google by claiming your Google My Business local listing and page. Manage your free listing directly, read and respond to reviews, and control the accuracy and completeness of your address, phone number, contact information, and photos.
We have read that an incredible 56 percent of local businesses have not claimed their listing!
Be part of the 44 percent that are taking a proactive approach to earning and responding to reviews.
Google reviews may be important but remember that Facebook, Yelp, and Foursquare reviews can be equally important. Tackle your reviews on every platform for the best results.
4. Reply to Every Review
You cannot expect to effectively manage your reviews if you don't reply. Reply to each and every review, the good, bad, and ugly. Avoid defensive language and always be gracious and genuine.
Users seek out reviews to see what others are saying. When users stumble upon a negative review that has not been replied to, they're only getting half of the story and they may think the business doesn't care.
Reply promptly and offer a solution when applicable plus a prompt apology. Not only do you have the potential to win back a customer, your genuine response may sway a prospective customer.
Replies should always be conducted in a timely manner. A great rule of thumb is to reply within 24 hours Monday through Friday, and 48 hours Saturday and Sunday.
5. Encourage Customers to Review
Studies show that 84 percent of people trust online reviews as much as they trust friends.
Encourage your customers to leave reviews whenever your business completes a service.
Don't be afraid to ask customers to leave reviews. If they're thrilled with the service you've provided they'll be happy to help. Plus there is a tendency to only leave reviews when we are angry. The best way to counter a negative customer review is with 5-10 great reviews.
A few clever ways to encourage reviews is to:
Ask in-person once service has been provided.
Include a link to leave a review on your monthly newsletter.
Make it easy to leave reviews by adding a "Leave Us a Review" button on your website.
Set internal goals every quarter to keep momentum and ensure that the number of your reviews never go stagnant.
6. Encourage Honest Reviews
Honesty and transparency is often the best policy when it comes to handling reviews. Everyone loves to get and read five-star reviews, but they should be earned, not just given.
Genuine, honest reviews are powerful tools for business.
Note: If you're hovering around a 4 or 4.5 rating, don't worry! 94 percent of customers said they'd use a business with a four-star rating and 68 percent claimed they trusted a business with a mixture of positive and negative reviews.
Don't panic if you have mixed reviews. The silver lining is that it helps the reviews feel more authentic.
7. Listen and Learn from Your Reviews, Even the Negative Ones
Reviews are windows into the services that your business offers and how you are doing.
Negative online reviews may be the byproduct of a customer having a bad day, but if you're receiving consistent reviews mentioning a specific service or aspect of your business, listen!
Address any issues, be it customer service concerns or a specific employee complaint. Negative reviews are also an opportunity to build your brand. Genuinely apologize and offer to help make it right when it's warranted.
Let's make this clear…what you don't want to do is argue.
One of the most popular "What Not To Do" examples is the now infamous Amy's Baking Company.
On an episode of Kitchen Nightmares, Gordon Ramsay met Amy and Salomon "Samy" Bouzaglo, restaurant owners in Scottsdale, Arizona. Not only did they refuse to believe any of their negative reviews–literal dozens of reviews–they actively sought them out and argued each one.
The episode and its subjects were so abrasive and unmanageable, focusing on each negative review as though it were a personal dig, it led to eventually closing their doors permanently.
If there was ever a cautionary small business tale about the importance of reputation management, it's that one.
8. It's Never Too Late to Apologize
Every business has bad days, sometimes there are fires that can't be easily put out. If your business finds itself on the wrong side of a customer engagement own up to it and apologize.
A genuine apology goes a long way online. Some customers may even respond with gratitude and understanding.
It's not unusual on platforms like Facebook and Google, for users to even edit their review to add a star or two and an extra line. When this happens, celebrate your accomplishment!
9. Don't Stoop Down to "Trolls"
While there is a protocol for handling negative reviews, many businesses fail to anticipate "trolls".
A troll is internet slang for someone that consciously tries to stir the pot by posting rude and often inflammatory comments online.
If your business has the misfortune of being plagued with a troll or two, don't panic. Don't hesitate to block someone who is obsessively commenting, reviewing, or spreading rumors about your business.
Delete the comments if you can, attempt to assuage the review, but do not fight back with anger or spite. If you reply with a vengeance, you're only pouring more fuel to the fire.
10. Invest In Reputation Management
These days, managing your company's online reputation can be a full-time job.
We guess its fair to say that a major downside to our culture and social media is that there is no real way to avoid problematic issues with being found online. It comes with the territory.
Comments and reviews can come at any hour of the day, any day of the week. An upset or frustrated customer likes to vent and they don't take weekends or nights off!
In reality, a hardworking small business, might not have the time to respond to each comment, every review, positive or negative. Crafting response after response takes a lot of time and energy.
If you find yourself in this predicament, consider enlisting a trusted member of your team to carry the load, or ask your agency to carry the load.
Reputation management programs vary from agency to agency and from client to client based on matching capabilities and needs.
Our experience tells us that as you grow, it's worth a little time and money to be proactive and stay ahead of your reputation online.
Need A Helping Hand
MarketCrest is an in-house digital marketing agency offers SEO, website development, Pay-Per-Click advertising, social media, content marketing and of course reputation management services.
Sign up for an hour of free marketing consultation with our chief consultant. Our award-winning team has helped local businesses and large corporations alike take control of their digital presence.