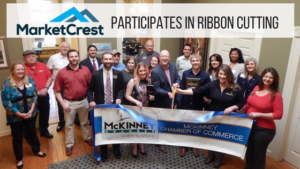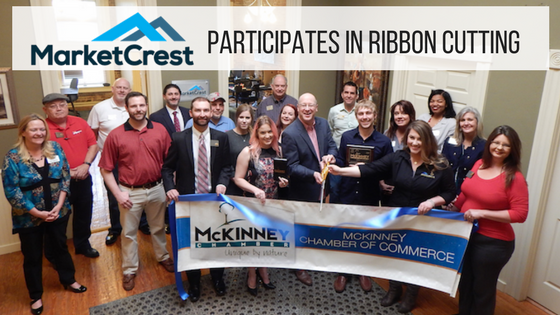 MarketCrest, LLC an online marketing company located in the Historic Downtown McKinney Square participated in a ribbon cutting and grand opening event on March 9, 2017 to celebrate their new offices.
The event was hosted by the McKinney Chamber of Commerce of which MarketCrest is a member.
With several dozen Chamber members in attendance, as well as MarketCrest staff, family and friends, the 105 S. Tennessee St. event was full of energy and excitement.
"I'm glad that you were able to come and celebrate with us. It's a big deal, to be joining the historic downtown community." said MarketCrest CEO, Scott Berry.
The company's expansion created a need for a new office space and MarketCrest was officially relocated to the Historic Downtown McKinney, TX Square in November of 2016.
The Ribbon Cutting event, hosted by the Chamber of Commerce, was simple and elegant, yet celebrated everything that MarketCrest has accomplished in its growth and new location.
A rooftop champagne toast and lunch finished out the celebratory day, but for now, it's back to business in the new MarketCrest office.
As an online marketing company in McKinney, MarketCrest provides marketing consulting and services such as content creation, SEO, PPC, website and social media management. The firm works primarily in the small business and legal fields.
MarketCrest also provides marketing consultation for start-ups associated with The Werx in McKinney, TX.
In addition, on April 11th, Scott Berry will be part of the panel for a Competitive Edge Business Seminar "Optimizing Your Online Brand" which is hosted by the Chamber and located at the Holiday Inn & Suites in McKinney.
SaveSave