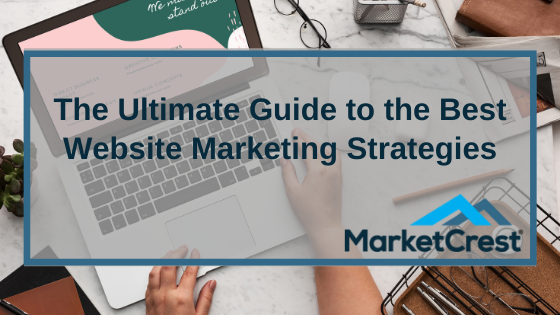 Running a business has always required a solid marketing strategy, but this is the Information Age – and now, marketing takes place on more levels than ever before. If you want your business to succeed, you need a strong online presence that follows the most cutting-edge website marketing strategies.
The Ultimate Guide to the Best Website Marketing Strategies
Your digital marketing strategy starts with a highly engaging and functional website. You need to:
Get to know your ideal buyer persona
Develop your brand presentation
Provide a high-quality user experience online
Optimize your website
Strategically position your company on social media channels
Gather and maintain online reviews
Create and commit to an email marketing strategy
Track performance with powerful analytics
The following sections delve into each of these website marketing strategies, how you can implement them, and how they'll help you.
Get to Know Your Ideal Buyer Persona
Before you start any website marketing strategy, get to know your ideal buyer persona. Identify the perfect customer for your product or service, and write down who he or she is – this information will inform every marketing decision you make, from content development to social media engagement.
Sample Buyer Persona #1

She's between 25 and 40, and she knows exactly what she wants. She doesn't spend a lot of time window-shopping – she goes directly to the department she needs and zeroes in on her favorite brands. Her salary as an emerging professional in her field ranges between $65,000 and $85,000 per year. She's in command of her finances, her emotions and her decisions, but she always appreciates tongue-in-cheek humor and prides herself on her ability to choose quality home furnishings and décor.

Sample Buyer Persona #2

He's a hard-working adventurer who's always looking for an opportunity to escape to the lake, the woods or the mountains. Because he works so hard, he appreciates a great deal – but when he's not working, you'll catch him stepping into a canoe at 4 a.m. on a Saturday morning, packing his Jeep with gear for a weekend getaway or strapping on snowshoes and heading north. This all-around good guy earns between $45,000 and $75,000, and he's always on the lookout for the latest outdoors gadgets.
Send out surveys and questionnaires to help zero in on your ideal buyer personas. You can use your existing opt-in email list or pose questions on social media. Don't be afraid to ask your customers to inform your future marketing decisions.
Develop Your Brand Presentation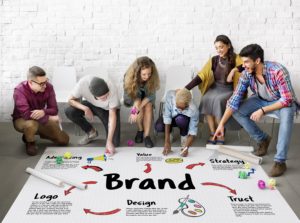 Once you identify your target market by creating buyer personas, figure out how to present your brand in the most effective ways.
Define your company's values and mission, and translate them into the language your ideal customer can understand and appreciate. How does your company meet your customers' needs? How does your brand fit into and complement your customers' lives?
Create a story around your brand. Follow it from its inception through today, focusing primarily on how you want your ideal customer to feel when he or she sees your logo, your company name, or your products.
Pro tip: Use color psychology to match your brand to your buyer personas, and always keep your branding consistent across every channel.
Provide a High-Quality User Experience Online
Zero in on optimal website design so your users have the best possible experience when they find you online. You have to stand out with:
Fast, responsive design that renders exceptionally well on any device
Easy navigation between information and products or services
Great content that informs, inspires and encourages visitors to act
Good user experience, or UX, focuses on what users want – not on hard sales and self-promotion. For most business owners, consulting with a professional marketing agency to create a positive UX is absolutely essential.
Optimize Your Website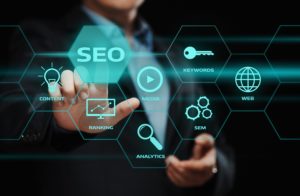 Your website is the connection between your company and its potential customers – and the best way to attract them is through search engine optimization or SEO.
Sure, you can put up a dozen blog posts or promotional videos each day, but that's not going to cut it. Your competitors are doing better, and you need to, too.
You need data-driven ideas that bring in search engine traffic and turn prospects into loyal customers.
Search engines crawl websites to rank and sort pages according to how useful they are to searchers. Search engine optimization allows your site to meet users' needs so Google and other, less popular search engines can deliver it on the first page of results. For that reason, 61% of all marketers make SEO a top priority.
Strategically Position Your Company on Social Media Channels
Social media is your key to connecting with buyers where they're most comfortable. Facebook dominates the U.S. market – 69 percent of adults in the U.S. actively use it. Here's a quick run-down of other platforms:
40% of American adults use Instagram
31% are on Pinterest
28% are on LinkedIn
25% are on Snapchat
23% are on Twitter
Drilling down more, Americans aged 18 to 24 are primarily on Snapchat – 78 percent of them, in fact. Further, 71 percent use Instagram and 45 percent use Twitter.
Pro tip: Take note of your buyer personas and zero in on the sites that dominate those age groups to inform your social media strategies.
Social media marketing is about more than creating a few posts. It's about engaging your customers and sharing content they really find useful – and that they know their friends and colleagues will also find useful.
You can't afford to drop the ball when all your potential customers are watching from the sidelines, so it may be worth outsourcing social media development and maintenance to the pros.
Gather and Maintain Online Reviews
Your website is the foundation of your digital marketing campaign, but social proof is the glue that holds everything together. Your reputation is on the line with every order, every purchase and every delivery – and because 84 percent of people trust online reviews as much as they trust a friend's recommendation, it's important that you're proactive in managing yours.
Seek out favorable reviews, and when you get them, acknowledge and thank the people who leave them.

Pro tip: Promote favorable ratings by asking your webmaster to create code that incorporates Google's star ratings in your search results. (Websites that feature Google's aggregated star ratings get higher click-through rates than those without them.)
Create and Commit to an Email Marketing Strategy
Give your visitors an incentive to receive marketing emails from you. Maybe you'll create an e-book packed with great tips, or perhaps you can send people exclusive access to members-only deals. You can use that valuable asset to encourage your customers to share their email address with you – and the best part is that they're already interested in what you have to offer.
Creating an email marketing strategy helps you stay a step ahead of your competitors. Your customers are hearing from you, and you're giving them something your competitors aren't – your brand earns loyalty that way. Use your email campaigns to continue building that relationship with people who already trusted you enough to give you an email address.
Track Performance With Powerful Analytics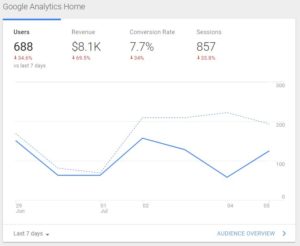 A professional gymnast watches his routine dozens of times to evaluate exactly where he slipped. An expert archer shoots thousands of arrows and scrutinizes each draw. A successful marketer does the same thing: carefully executes an informed, data-driven plan and watches its journey all the way back to the website.
Use powerful tools like Google Analytics, Moz, KISSmetrics, or CrazyEgg – or another tool you're comfortable with – to evaluate the life cycle of every piece of marketing material you use. You'll be able to make more informed decisions and enjoy better results after every cycle.
Let's Talk About Your Marketing Strategy
The internet isn't going to stop evolving, and neither should your marketing strategy. Because you have other things to do – like run your business – it pays to learn from and work with the industry's most trusted experts.
We invite you to read through our marketing blog for tips and tricks that help you stay on top.
When you're ready, call us at 469-661-1040 or fill out the form below for a free, one-hour consultation with a marketing expert who can propel your company to the next level.