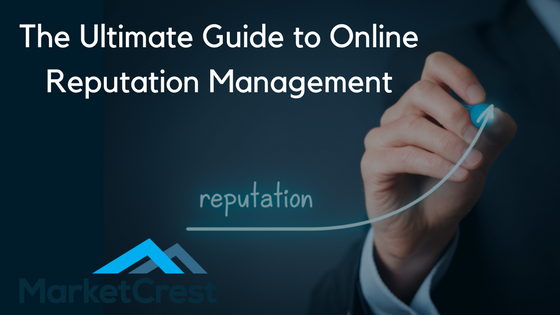 Welcome to the world of online reputation management, where one ill-timed tweet or potentially offense comment back to a reviewer can easily cost you your entire business.
In today's world especially, it can be tough to know the best way to manage your brand's reputation online. How can you ensure that you defend yourself and your business practices, while also making sure consumers know you value their opinion?
That's what online reputation management is all about.
Read on to access our ultimate guide to getting it right.
Step One: Find Out What They're Saying
We get it: it can be incredibly stressful to think about Googling yourself or your business to know what people really think of you.
However, if you don't face the music, you have no chance of improving — and you're telling your customers that their opinion doesn't really matter to you.
The first step of good reputation management is to do a quick search on yourself and your brand.
Read your reviews, make sure you're aware of any online complaints, and even search your business's name on social media marketing platforms like Instagram and Twitter. We also suggest setting up a Google Alert for your brand's name.
This way, anytime someone posts something online related to your company, you know about it as soon as it happens. This allows you to respond to the comment, and control the situation before it gets away from you.
Don't like what you see?
If unflattering or inappropriate pictures of you or your employees pop up, do what you can about getting them deleted. Also, wipe your old Twitter page if needed, and close any college-era social media personal platforms.
Step Two: Control Your Narrative
So, you did a little bit of searching about yourself and your brand.
Unfortunately, you didn't like what you learned. Before you start panicking that it's too late, focus on what you can do to salvage the situation.
The first thing?
Build or completely revamp your personal website. This way, when people Google your name, that will be the first thing that comes up about you — and you can present yourself as a professional.
Next, start doing what you can to push those negative reviews, old photos, and social media missteps off the first page of search engine results.
Submit articles to industry journals. Start a blog. Create new social media accounts for both yourself and your business.
Step Three: Respond To The Negative
How you respond to a crisis or a mistake says a lot about your personal character — and your ability to maintain a level head.
Of course, we know that usually, keeping your cool when someone has insulted you or your business is easier said than done.
The number-one rule of responding to negative comments and reviews? Give yourself a few minutes — or hours — to calm down first. Don't respond or act on defensiveness or raw emotion.
Instead, step away and get control over yourself. Then, really think about what the person was saying. Chances are that, even if they didn't say it in the best way, they still provided some constructive thought or criticism about your business.
Even better?
Their review gives you the chance to prove to both current and potential customers that you want to listen to feedback and keep your customers satisfied.
Start by thanking the person for their review. Then, assure them that you're going to follow up on the situation, both with the reviewer and the responsible staff/team member.
Next, ask them what you could do to make their experience better. Finally, offer them either a free or discounted service/product if they're willing to give you another chance to make it right.
Step Four: Consider A Professional
Let's face it — whether because of your age, your nationality, or even the amount of time you spend online, you won't always know what's appropriate and what's not.
Further, you may not have the time or even the writing ability to craft an apology in the right way or to correctly respond to a review.
Sometimes, hiring professional marketers or an online reputation management expert is the best course of action.
First of all, they have the time to do the research into what's being said about you online. Additionally, they have the marketing experience needed to prevent you from making major mistakes in the first place.
And finally, they have the resources to actually address and fix the situation — instead of just ignoring it.
Need More Help With Online Reputation Management?
Remember — managing your reputation online isn't always about avoiding mistakes. Instead, it's about knowing the proper way to own up to them.
Looking for a reputation management professional with the skill set you need?
We can make it happen. In addition to managing your brand's online reputation, we also offer Search Engine Optimization (SEO), PPC, website design, and several other online digital marketing services to take your brand to the next level.
Don't wait until it's too late to start thinking about your online reputation management strategy.
Instead, spend some time on our website to learn more about how we can help you avoid making costly mistakes that severely damage — or even outright destroy — your brand's reputation.
When you're ready to take control of your narrative, reach out to us to get started with a free marketing quote.